New Zealand Time – December 3, 9:30pm
The last week or so has been pretty non-stop, with college officially ending and a myriad of things to do as a result.
This past Monday, after a rousing 1/3-day of classes, a bunch of us headed down to Wellington. Tuesday, the entire class was heading to Capital E in Wellington for a school trip (which I will touch on later). Thankfully others were in the same mindset as myself, and didn't want to venture all of the way down to Wellington and back in a single day … so we went down the night before. Plus, knowing I would be heading home soon, I knew this would in all likelihood be my last chance to hit Wellington. It is such a lovely place. Hard to describe. Populous and metropolitan, yet not.
Somehow, I was indirectly put in charge of accommodation. As you might expect, I found the closest hostel to Capital E … literally a minute walk away. The hostel itself was quite the place too, I really outdid myself. We got into Welly in the late afternoon, and naturally found a bar on the shoreline and enjoyed a few drinks under the clear skies and warm sun. Eventually we caught up with the rest of the pack that came down, and headed out for the evening. We found some food, some drinks, and had a pretty good evening. Wellington on a Monday night, is about a hundred times more lively than Palmy on a Friday/Saturday. Did I mention I love Wellington? It wasn't too late of a night, and I believe we were in just around 1am. We had to be at Capital E for 9:30am (or so we thought…) the next morning.
I was up and good to go in the morning by eight, and once everyone was settled we checked out, caught up with some others, and headed out to find some breakfast. Having to be at Capital E at 9:30, we had heaps of time. Found some breakfast, coffee, baked goods, along the wonderful Cuba Street. We arrived at Capital E, but apparently were … late? The arrival time was 9:15am (or so they say!), and by default I think everyone assumed we were hungover (which we weren't) or lazy (since the hostel was a minutes walk away). We calmed the storms though, and everyone was happy.
Once at Capital E, we spent the morning making music, and the afternoon making a news broadcast. The morning was interesting, but nothing overly new. The news broadcast was quite the experience however. We filled all the positions, on and off camera. Yours truly was on the news desk. A lot of laughs, and there is a master copy on DVD. I will certainly be bringing a copy home. The Capital E program is for students, and the trip itself was just to give us (as teachers) a sample of what was offered. Well, if I can ever find a school or students willing to shell out the money for a trip to Welly, I'd go back in a second.
Wednesday was spent at the Esplanade (aka, a giant park … trees, aviary, cricket fields, pool, trails … are you listening St. Catharines?!) doing various lesson/activities. The "purpose" of the day was EOTC (Education Outside the Classroom), and safety issues, etc. Nothing to special, but it was nice to get out. We hit a bar in town for lunch, and then proceeded to spent the rest of the day at a classmates house outside, enjoying the sun, drinks, company, etc. We eventually took off and hit a bar (there was only one bar open on Wednesday night in Palmy … so naturally, that is where we went!). A long, long, but enjoyable night. For the karaoke lovers out there, check out SingStar for the PlayStation2. Quite the game. I do a mean Johnny Cash, and a pretty good Vanilla Ice apparently. Sadly.
Thursday. Hmmm … nothing special. Just a meet up at college, we watched our lovely newscast, had a big morning tea, and basically started saying goodbye. Some people were leaving that afternoon, which was pretty weird. I am not the emotional type by default, but it was definitely a weird, emotional day. It was best described by someone else as a day long funeral. There are still a fair number of people around, most of whom I've seen since and will see before I go, but for those that I won't see again, it is an odd feeling. However, spending 30+ hours a week for almost an entire year with the same small group of people is not what I would call a normal thing. I've made some good mates over the year, and while I anticipate coming back at some point (still more to see!), it certainly won't be any time soon.
I've spent the last few days doing a combination of everything and nothing. I made a list of things to do on Friday, but didn't accomplish one. I did meet up with some people in the late afternoon for a couple pints though. I guess that is something? Saturday was cleaning and organizing day. I even packed (though I'll surely have to repack once I'm closer to my departure date) a few things I know I'm not going to need. Sunday was the Santa Claus parade in Palmy. Odd enough seeing Santa, and various other Christmas paraphernalia being toted around in 25 degree weather while the skies are a vibrant blue. The parade itself was cute, but I've obviously been spoiled with the Grape'n'Wine over the years. Then again, Palmy is half the size of St.C, and I've never seen St.C's own Santa Claus parade. For all I know it could be horrible.
Monday, today, was paperwork day. I meandered up to college and got several things sorted out for my registration here (the fact that I have to register here is silly if you ask me, but thats another story), changed my address to my Canadian one, and caught up with a few lecturers. Another lovely day. The weather has been phenomenal here as of late.
Tomorrow, I'm off on a camp/hunt. Not sure where we are going. Well, I've been told, but I can't (a) remember the name of the place and (b) even if I did, I have no idea where it is. The journey will be an all-male venture, so time to dig down, kill some animals, drink some beer, smoke some cigars, grill some steaks, and well … I think that is just about as manly as you get. So, after a relatively quiet weekend, I'm out of town for the next couple days.
Looking at my schedule after I return, things are pretty full up until I leave. Good, but sort of creepy at the same time. I still don't think it has sunk it that I'm leaning New Zealand. I absolutely love this country, but how could anyone not. Do not fret however, as I still love my own. I am a nationalist at heart I think, but New Zealand is certainly #1a to my Canadian #1.
If they had a prominent love affair with ice hockey though … hmm …
Below are few random photos. Do enjoy.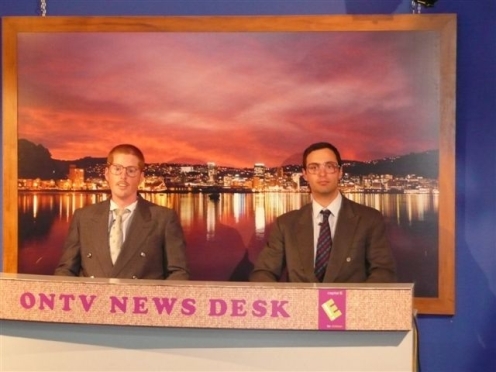 Myself and David, smiling for the masses of fans, from our newsroom desk.

The NZ version of the fish burger, with a "scoop" of chips.

Playing hacky at a class party at a lecturer's house a couple weekends ago. I am progressing towards being a hacky master, however playing in bare feet is just plain hard.